Famous years in Charleston SC History from plaque
on elevated sidewalk at Charleston SC Battery Park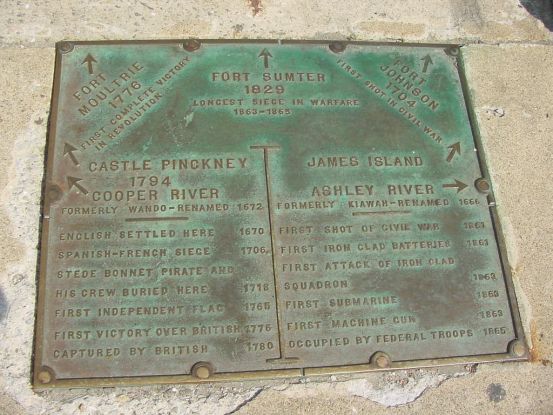 History of Charleston plaque (Click for full version History of Charleston SC info!)

Important Years (on marker) in Charleston SC History
from 1666 until 1865 in Chronological Order of Events

ASHLEY RIVER (FORMERLY KIAWAH) RENAMED - 1666
ENGLISH SETTLED HERE - 1670
COOPER RIVER (FORMERLY WANDO) RENAMED - 1672
FORT JOHNSON BUILT - 1704
SPANISH-FRENCH SIEGE - 1706
STEED BONET PIRATE AND HIS CREW BURIED HERE - 1718
FIRST INDEPENDENT FLAG - 1765
FORT MOULTRIE BUILT - 1776
FIRST VICTORY OVER BRITISH - 1776
FIRST COMPLETE VICTORY IN REVOLUTION - 1776
CAPTURED BY BRITISH - 1780
CASTLE PINCKNEY BUILT - 1794
FORT SUMTER BUILT - 1829
FIRST SHOT OF CIVIL WAR - 1861
FIRST IRON CLAD BATTERIES - 1861
FIRST ATTACK OF IRON CLAD SQUADRON - 1863
FIRST SUBMARINE - 1863
FIRST MACHINE GUN - 1863
LONGEST SIEGE IN WARFARE - 1863-1865
OCCUPIED BY FEDERAL TROOPS - 1865

That is a LOT of History for One City!
(As much as or more than Boston MA.)
Charleston endured 587 days of constant shelling, use of confederate prisoners as human shields (the Immortal 600) and its fortifications withstood numerous ground attacks, including a charge by the 54th Massachusetts Volunteer Infantry (famous due to 1989 movie Glory). News of this regiment's courage in its front line attack on Fort Wagner led to many more black regiments being created and by the end of the Civil War more than 180,000 African-Americans joined the Union army. This helped turn the tide for victory.

OLD 3-D "Motion Picture" of Charleston Battery during Civil War 1000x1000 image = 1,705.86 KB (1,746,800 bytes)
Remains of large Blakely gun, burst by the rebels before evacuation. (3-D photo from NPR.org courtesy of National Museum of American History)
OLD 3-D "Motion Picture" of Fort Sumter interior during Civil War 1000x1000 image = 1,808.64 KB (1,852,046 bytes)
The gun, partially covered by debris, is the 10-inch Columbiad, directed towards the city of Charleston. (Photo credits same as for the image above.)


History buffs: Visit Battle of Charleston in Revolutionary + Civil War!



Windsor Hill Plantation: Home of War Hero General William Moultrie!



|

|

|

|

|

|

|


Charleston Battery Tour | Charleston Battery 1 | Charleston Battery 2 | Charleston Battery 3 | Fort Sumter
Morris Island Lighthouse (Charleston Harbor 1) | Sullivans Island Lighthouse (Charleston Harbor 2) | Site Map
Copyright © 2002-2017 by Carolina Web Marketing. All Rights Reserved. Web hosting: Carolina Web Hosting